Staycations: idyllic domestic holidays taken close to home, from where one usually embarks on day trips or single-overnight trips. Yes, it may sound a bit tame compared to the international trips you typically embark on, but in these days when country borders are closed and your go-to destinations are off limits, this could be a perfect time to find out what staycations are all about.
Keep reading and you'll see that having a staycation isn't a sacrifice but an opportunity to rediscover the beauty waiting for you right around the corner.
You get to be a tourist in your own area
You know when friends and acquaintances tell you they're going to be in the area and ask for suggestions on what to do? How many of the places that you suggest have you actually tried yourself? Now's the chance to finally get around to taking that river tour or visiting the museum you've heard so much about.
Staycations are also perfect for giving in to your nostalgia and taking your family to the quaint hotel you stayed in with your family in your childhood, or that campground by the lake you spent a few summers at. You'll get a kick out of reliving your time there and showing your family all the best spots.
You'll be supporting the local economy
What better feeling is there than buying something wonderful while knowing that the money will benefit everyone around you? When you use your holiday money in your area, you're supporting the economy that you and your loved ones are intrinsically part of.
Your money will go to the home-grown coffee shops, hotels, restaurants and attractions that often depend on local support to survive. These owners and employees are our neighbours, friends of friends, husbands of former colleagues – people who improve our communities every day with their hard work and dedication.
Whatever your holiday type, you'll find it in the UK
With an open mind and some research, you'll discover a domestic version of your normally-international holiday. If you travel for the food, why not try new, fusion, or deconstructed versions of your own country's classics? Or you can finally find out, once and for all, which ice cream shop has the best cone.
Is lazing around on a beach more your idea of a perfect holiday? There are also lots of lovely beaches by lakes, rivers and even in many cities. Whether it's nature, adventure, road trips or something else entirely, let go of preconceptions and you'll see the possibilities all around you.
Home is just a short ride away
If things go pear-shaped – you get rained out, the attraction is closed – you can simply consider it a sign from the gods, pack your bags and head back home. At home, your books, TV series and films, puzzles, favourite wines and recipes are all waiting to get you back in a relaxed holiday mood.
You've got more financial freedom
You'd be hard-pressed to spend more on a staycation than an international trip. Take out the price of long-distance travel and you've already got more room in your budget to try nearby attractions and more lavish accommodations (did someone say "spa hotel"?). In short, you're free to plan the details of your staycation more liberally, without the months of saving up beforehand.
On top of that, many operations like tour guide companies, theme parks, museums and transportation systems even offer special discounts for local residents. All you have to do is provide proof of your residency.
You can finally take a trip with you-know-who
International, faraway travel is a complex thing, which is why most of us try to make it a bit simpler by traveling with the same people: partners, family members, parents, BFFs. When you limit the distance with a staycation, it becomes more possible for new people to be a part of it.
Finally you'll be able to load up the car and take that girl trip you've all been talking about for years, or hop on the train with a few other families and stay together in the countryside.
Planning and organising become easier
You won't be scratching your head over websites in unknown languages, rushing to renew your passport before departure, trying to figure out if your phone will work at the destination, or waiting in line at the bank to get foreign currency. Enough said.
You'll be able to enjoy a holiday with (almost) no stress
No holiday is totally stress-free, but you will find bliss in the familiar. That means you'll arrive at your destination fluent in the language, fresh and free of jet lag, knowledgeable in the transport possibilities, and with a general idea of the things you want to do and see there. No pressure – on staycations you have the flexibility to be spontaneous and make things up as you go along.
When you're gone, you're really gone
Meaning travel will only take a matter of hours (and for many, the staycation starts as soon as you get in the car) and once you're there, you won't need to look up travel itineraries, check-in times and other details. It will also be easier to digitally detox – to take a deep breath, disconnect from everything tech and simply live in the moment.
Kids love it too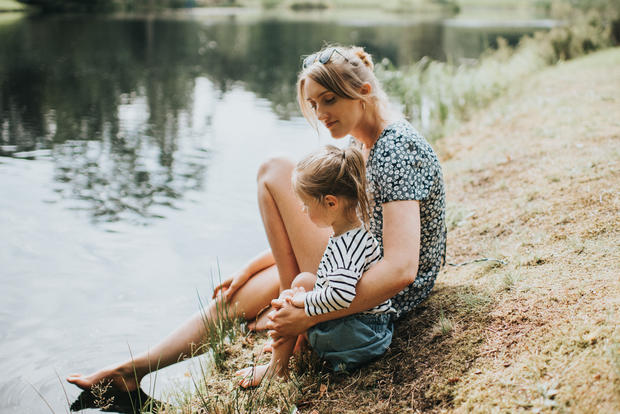 This is a huge thing if you're a parent. Not only will you be saving a load of money, you will be giving your kids amazing entertainment and happy memories for life. A simple camping trip, complete with a tent and campfire, means the world when your kids live in a city.
Kids are so special because they can't tell and don't care about how much money you've spent on a trip. It's what they get out of it. Go to a museum with them and experience what it was like to be a child in the Victorian era, take them on an epic canoe trip or horseback riding, stay in a hotel with a quirky theme or on a farm with a petting zoo. With kids, it's truly only the imagination that sets the limits.