Dramatic mountain ranges, cutting-edge theme parks, and relaxing thermal spas all call the region of Małopolska home. Covering most of south-eastern Poland, Małopolska's best-known city is Kraków, which boasts a bustling nightlife and unique hidden gems.
Beyond the cities, Małopolska's picturesque landscapes make it a popular destination for hikers and nature lovers. From exploring national parks to cycling through the countryside, these are the best things to do in Małopolska.
Looking for things to do in Kraków? Cast your gaze outside the city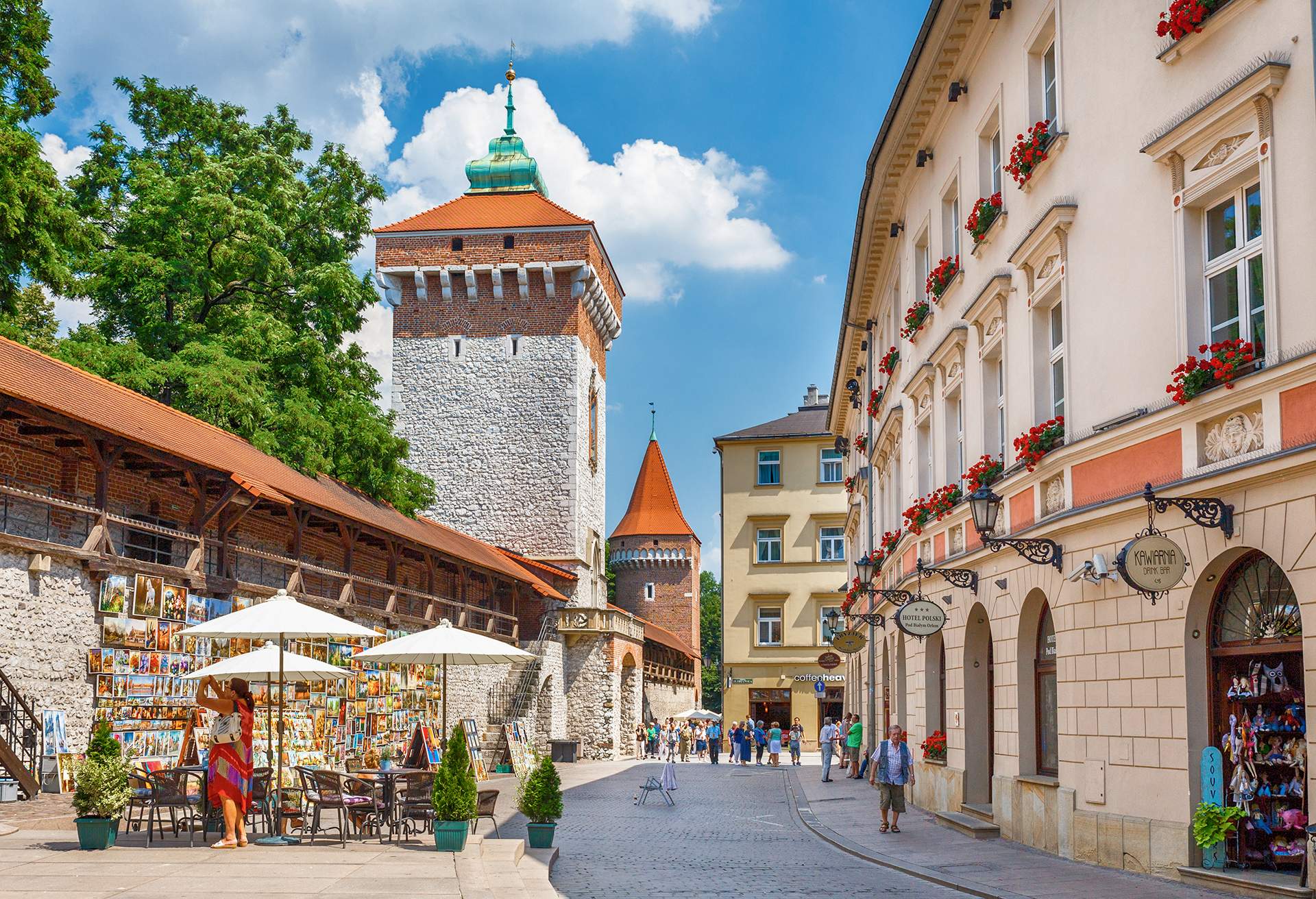 Kraków makes a great base for exploring Małopolska. Some of these activities can be enjoyed as day trips from the city, while others might see you packing your bag for a road trip and staying in other towns and cities in the region.
Enjoy the rides at Energylandia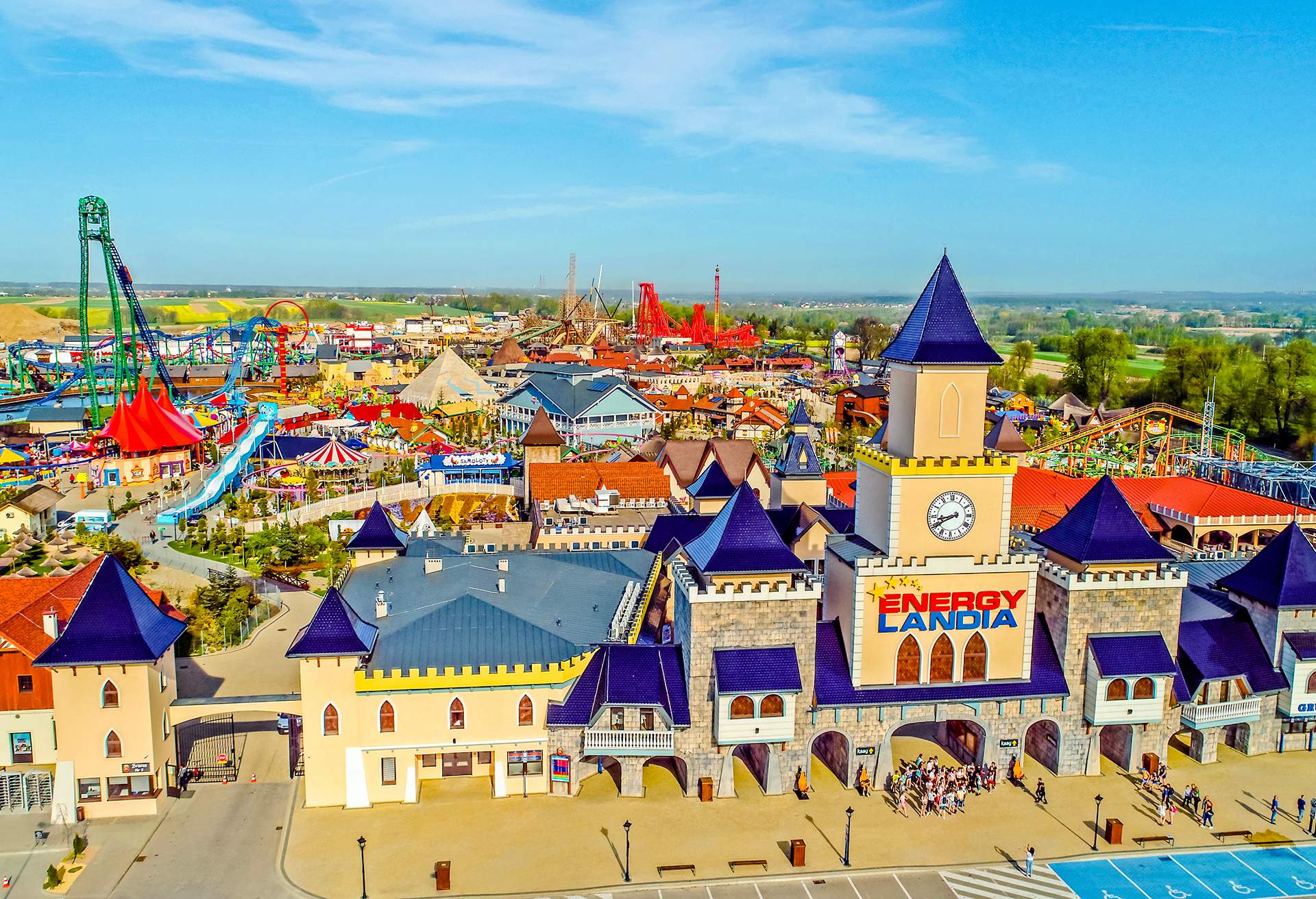 With over 100 rides across six themed zones, the largest amusement park in Poland and one of the biggest in Europe offers fun for the whole family, roughly one hour from Kraków. Thrill seekers can get an adrenaline rush at the Extreme Zone, on rides like the Hyperion rollercoaster. It has a 90-degree drop and a top speed of around 142 km/h.
Dragon Town is perfect for fans of medieval fantasy, with castle ruins and a magical Dragon Adventure train ride. Don't leave without taking a ride on Zadra, the world's tallest hybrid rollercoaster.
Younger kids can enjoy the bumper cars and ​​the Śmiejżelki Energuś rollercoaster in the storybook-esque Fairytale Land Zone. Energylandia also has plenty of spots where you can cool off on hot days.
The Water Zone will make you feel like you're on a tropical island with space to relax, play games or enjoy water slides (lifeguards will keep an eye on you and your kids). For a more high-octane water experience, try the Speed rollercoaster in the Extreme zone (the fastest, highest water coaster in the world).
The Family Zone has a number of water rides and a Splash Battle interactive experience. Aqualantis' Abyssus rollercoaster takes you over the water at high speeds, or you can take a calmer trip by boat on the water with the Grotto Expedition. The food here is varied, with plenty of options for sit-down meals or on-the-go snacks.
VeloMałopolska: cycle through the countryside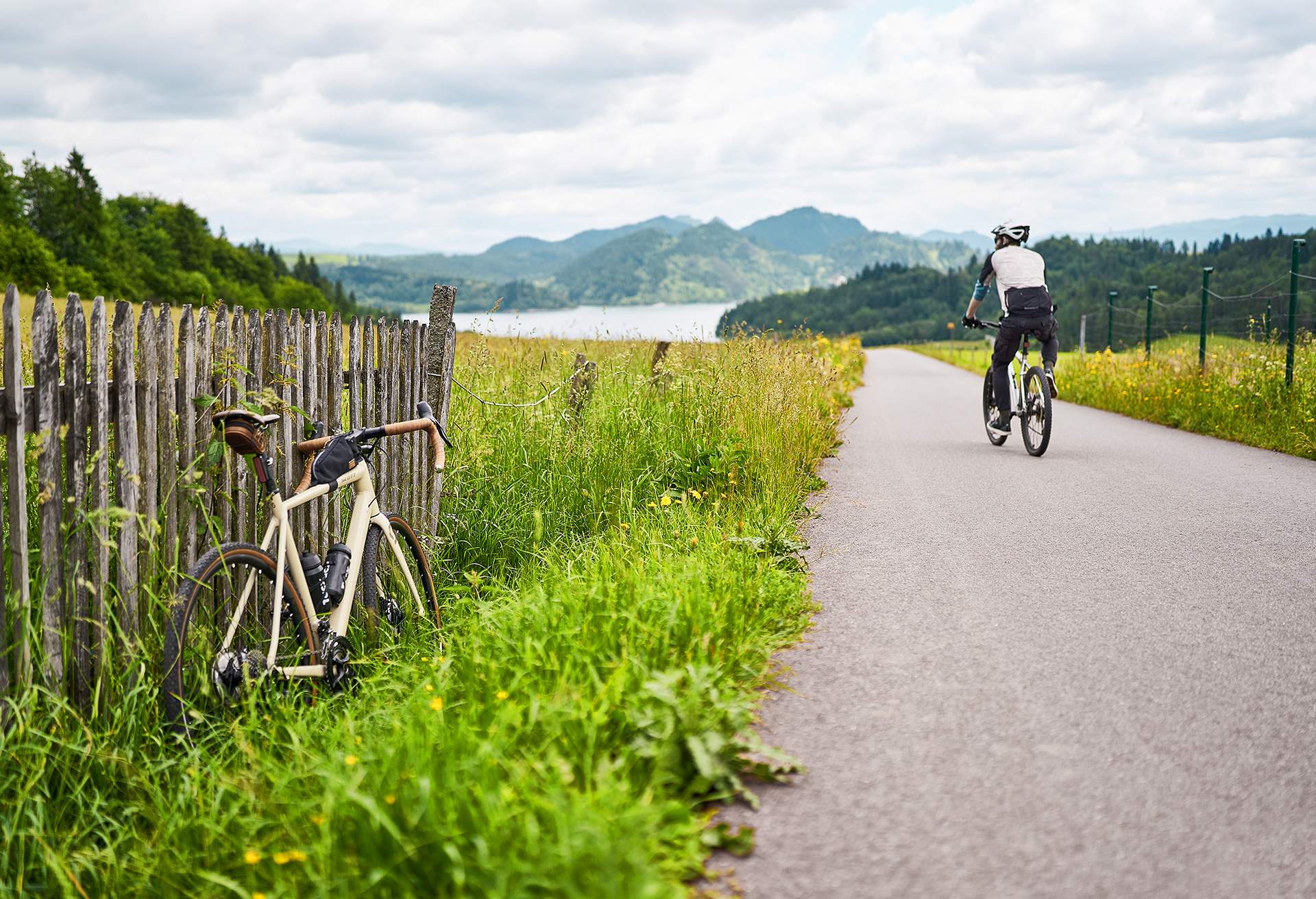 Cycling is a great way to take in Małopolska's beautiful countryside. There are eight planned VeloMałopolska routes that will take you to every part of the region. Currently, the VeloDunajec takes you from the north of Małopolska to the south (or vice versa) and is 256 kilometres long in total.
The Vistula Cycling route is 230 kilometers long and connects the region from east to west. These routes connect Kraków to other lovely Małopolska towns and cities. Asphalt paths mean you can explore the region at your leisure during all weather conditions and they're wide enough to accommodate multi-track bicycles.
The trails are separated from the main roads, so you won't have any cars or other vehicles to contend with. If you head out to the region's national parks, you'll find cycling routes that take you around the Tatra Mountains and the Pieniny foothills. There are also mountain biking routes for those who want to add some extra elevation. Looking to do some wine-tasting during your stay? The Enovelo route takes you through some of Pogórze's best vineyards. You can get a look at the trails using an interactive map.
Water Activities in Małopolska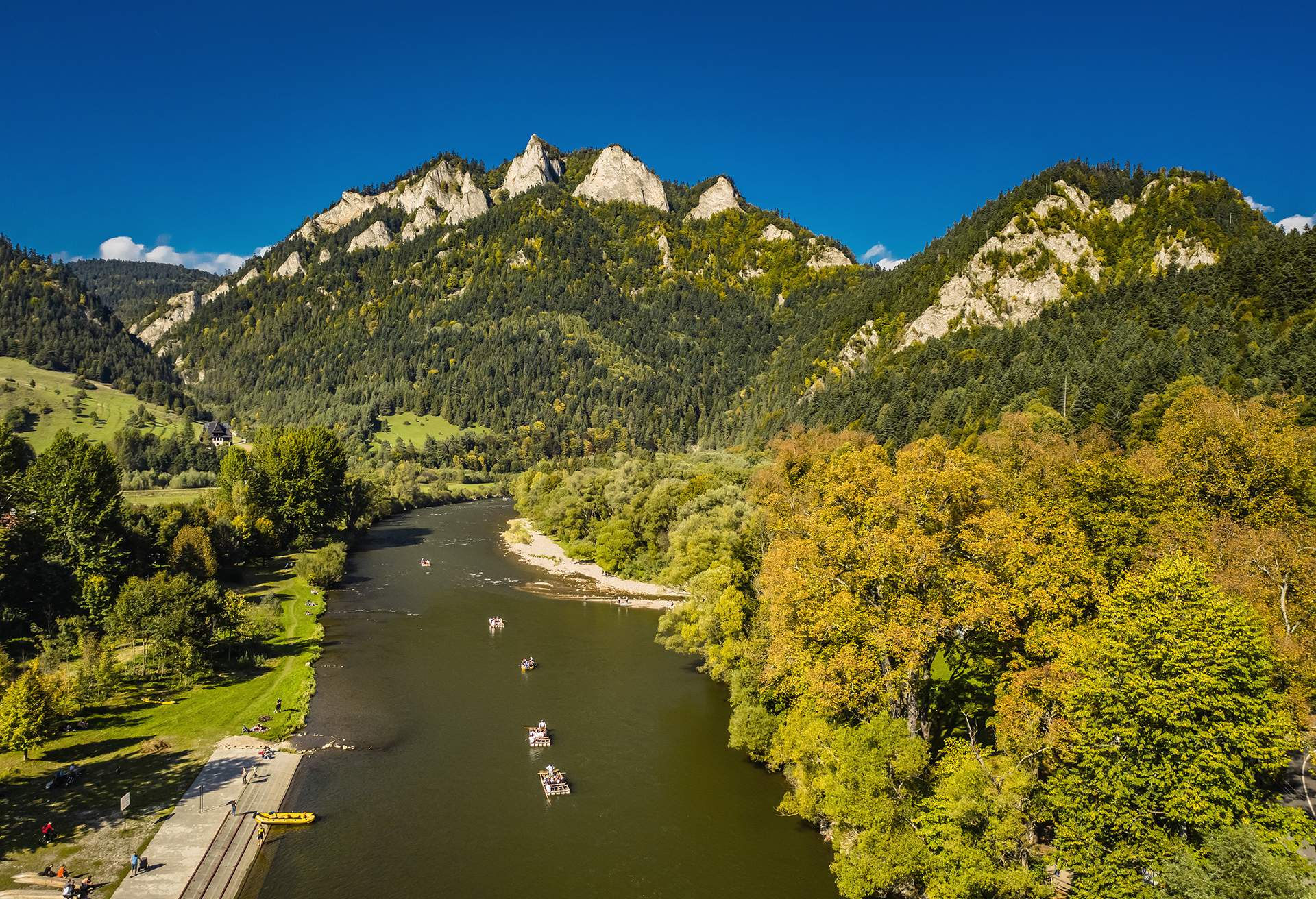 Whether you take a peaceful pontoon or a rapid river raft, you can have plenty of fun on the water in Małopolska during the warmer months.
Dunajec Gorge: River rafting in the Pieniny National Park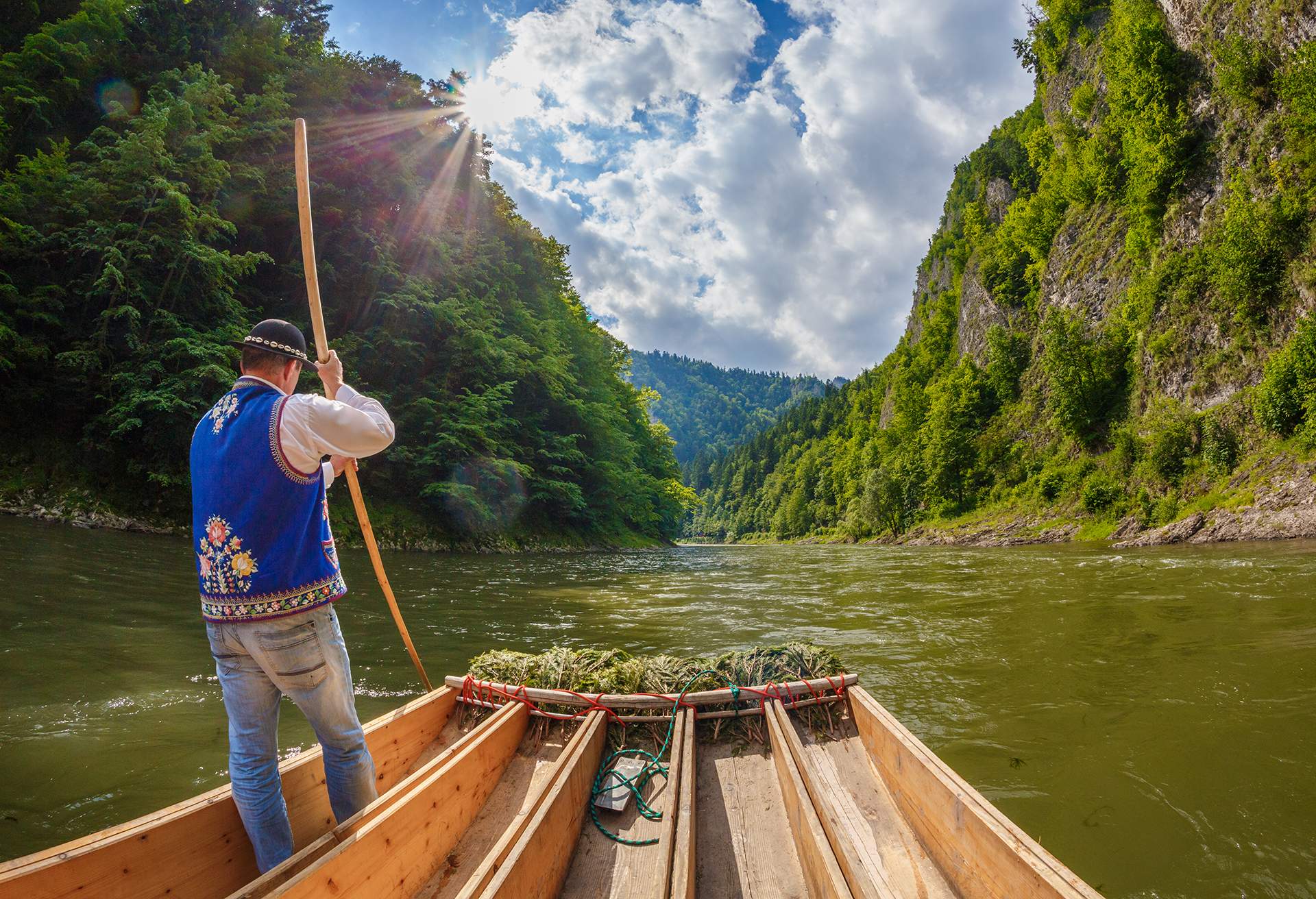 At Pieniny National Park, you can take part in a historical tradition at the Dunajec River Gorge. River rafts along the river were once used as a transit system for people and goods.
Today, you can ride the rafts from the nearby villages, steered by locals known as "flisaks", who are expertly trained to handle the currents. They wear traditional clothes and take you on a calm journey through the gorge. Longer tours start in Sromowce Wyżne and shorter tours start at Sromowce Niżne.
You can also take a rapid rafting tour on inflatable pontoons. Tours are usually offered from April 1st to the end of October. The rapid rafting should be booked in advance, but the traditional rafts shouldn't require bookings.
Take a Pontoon down the Poprad River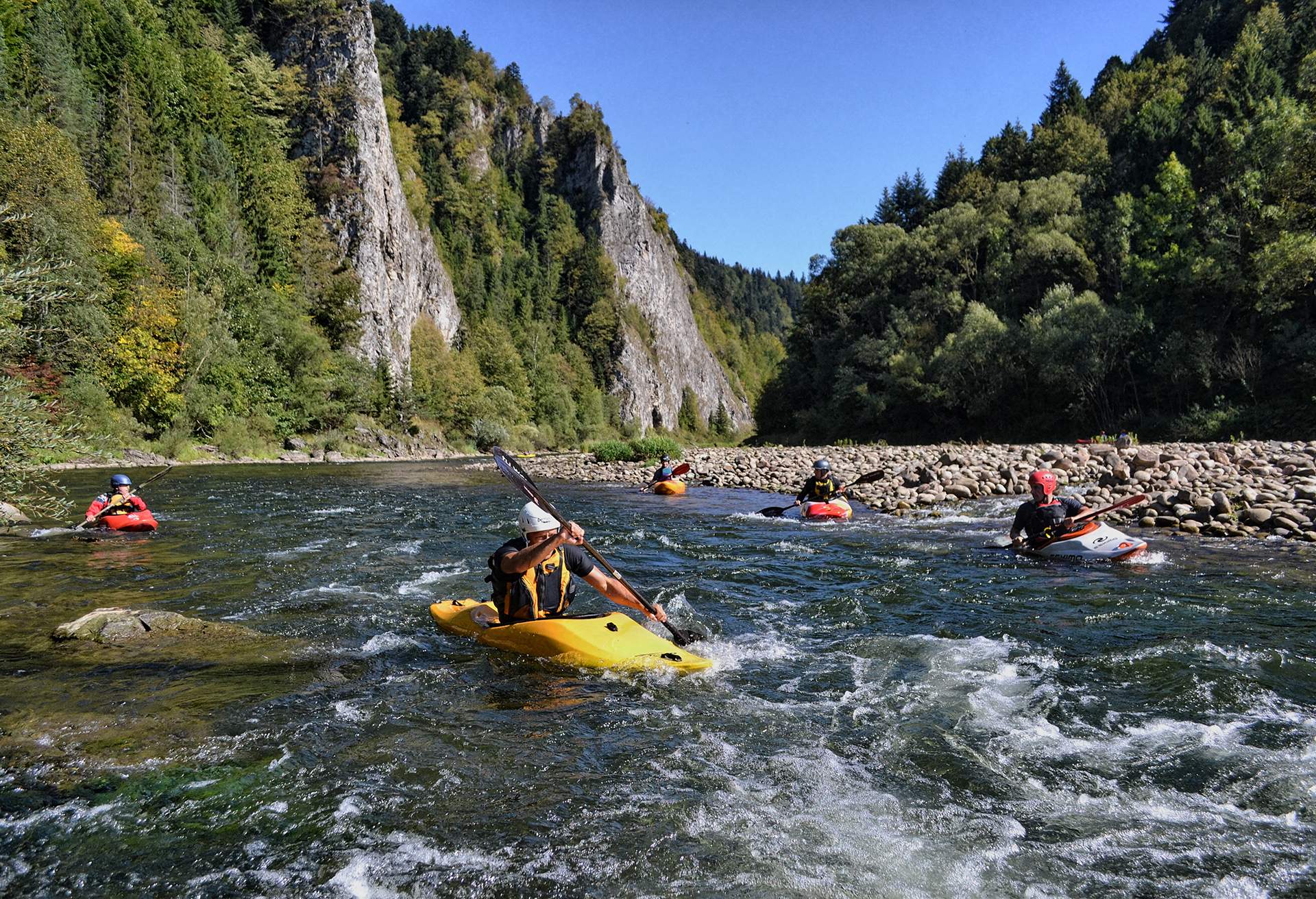 The Poprad River winds past forests and small towns in the Poprad Valley. You can take it all in at a leisurely pace on pontoons or kayaks. If you want to take a kayak, you'll usually need to take a quick refresher course beforehand. The main route will take you from the charming town of Muszyna to the spa village of Żegiestów.
Canoeing and kayaking across Małopolska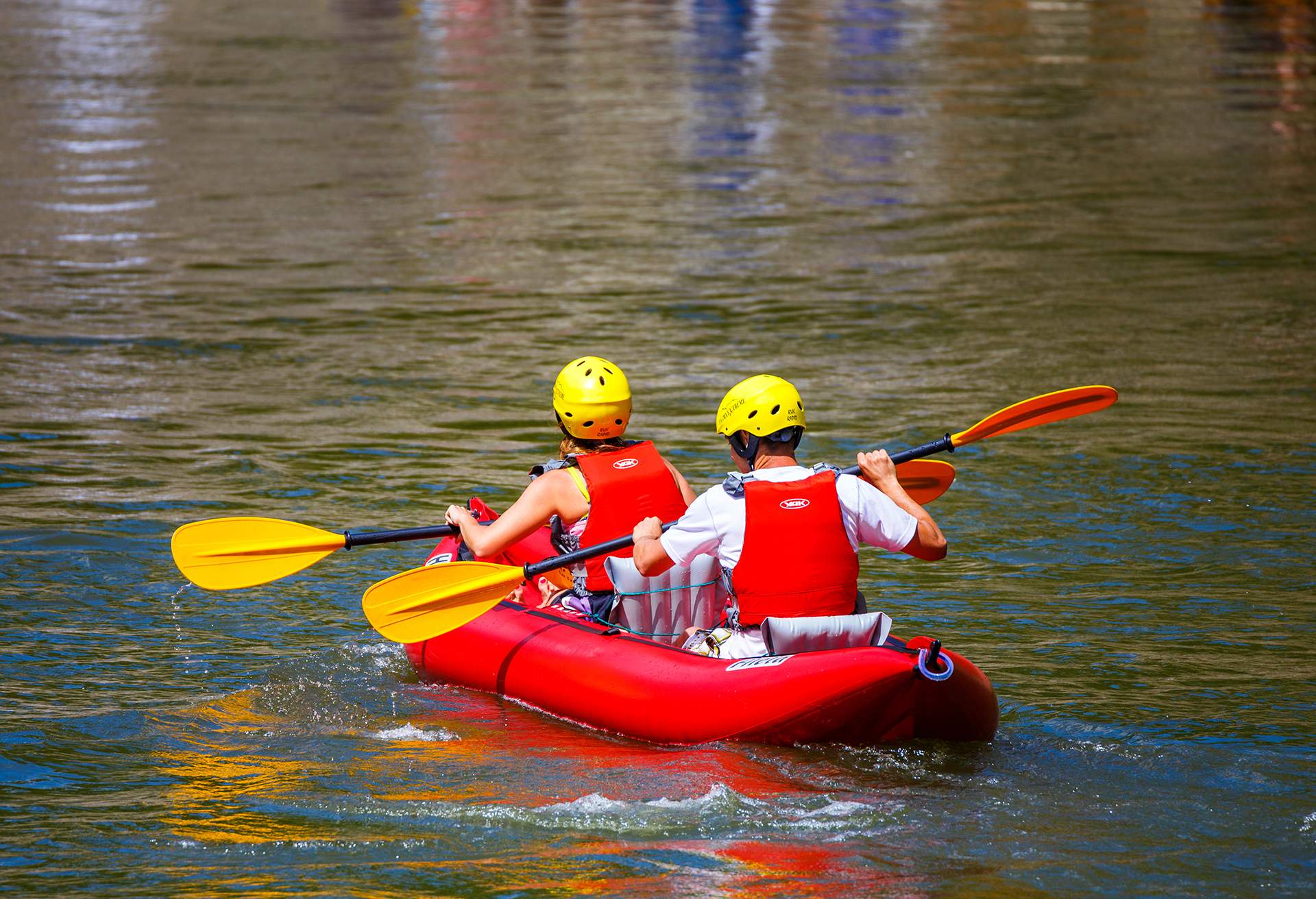 Poland's longest river, the Vistula, winds its way through Małopolska. The calm waters are suitable for beginners, and you can hire a kayak or a canoe to explore on your own or book a tour. Kajaki na Wiśle offers tours between Brzeźnica and nearby towns.
Mountain hikes at Malopolska's 6 national parks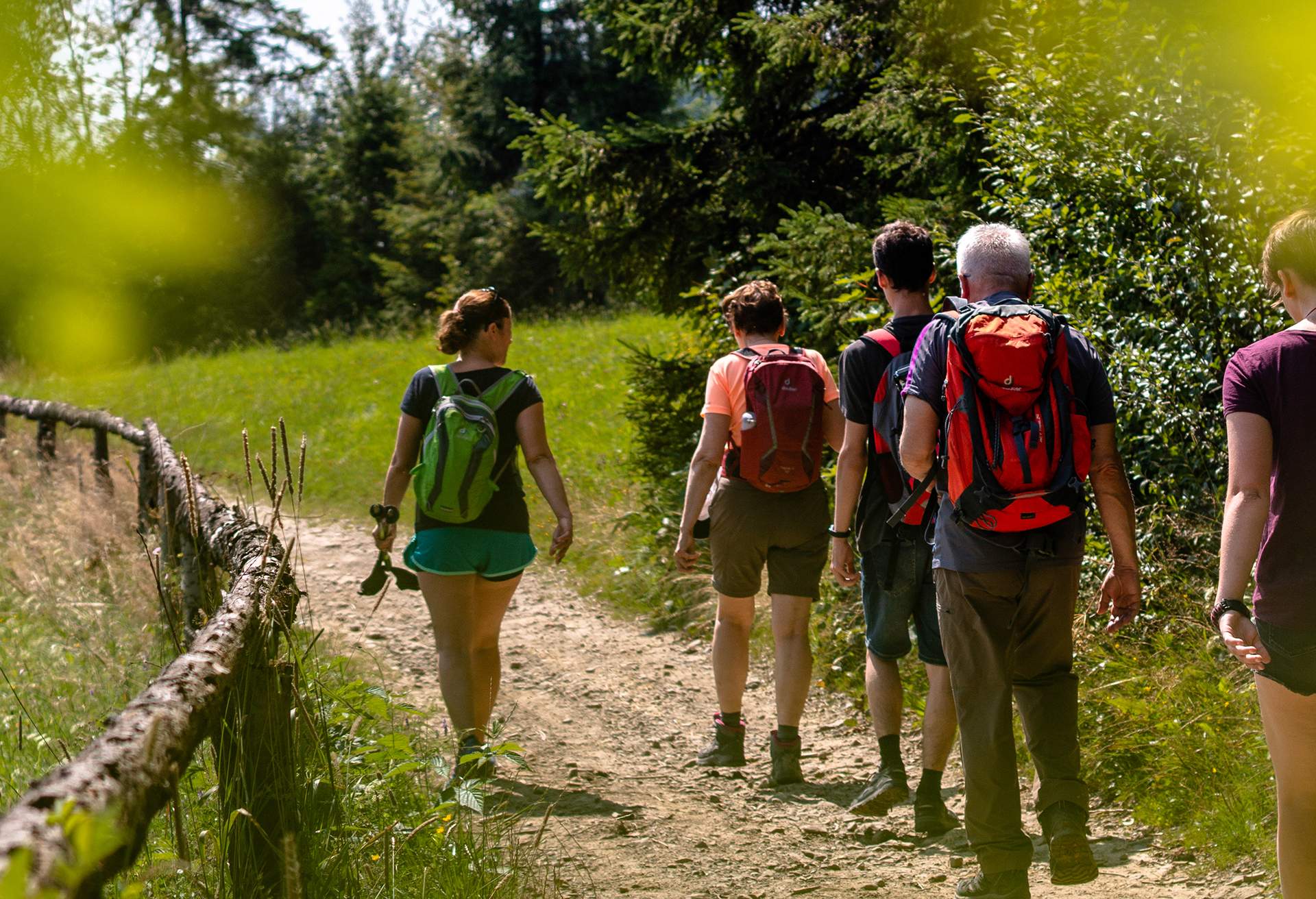 With two biosphere reserves, Małopolska has six national parks, more than any other Polish region.
Many parks are home to breathtaking mountain ranges with hiking trails that take you right to the peak. Below you'll find some of the best trails and attractions across Małopolska's parks.
Tatra National Park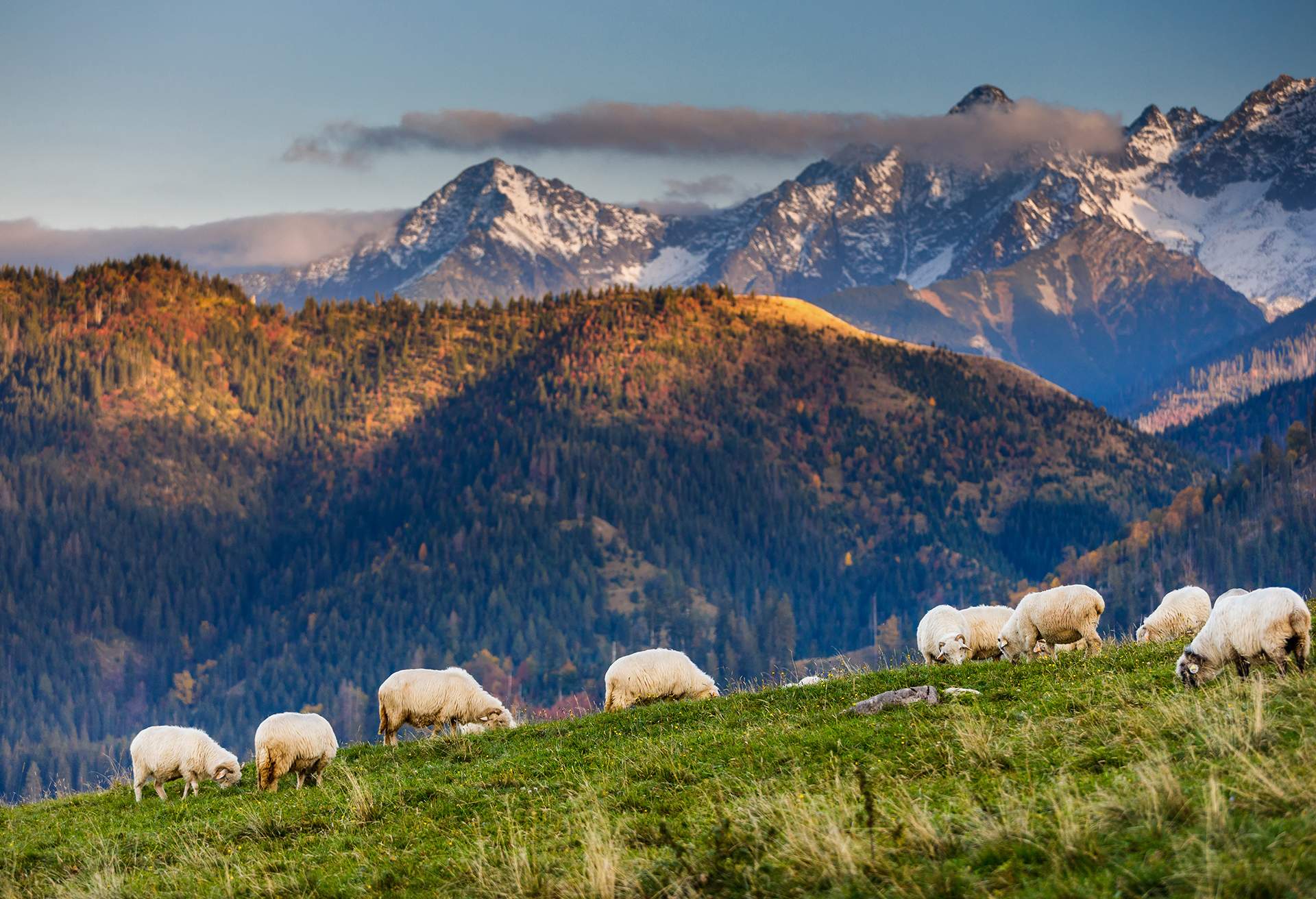 Tatra National Park is one of Poland's largest parks. It's home to the Tatra Mountains, which share the border between Poland and Slovakia. They include Rysy, the highest mountain in Poland, which offers sweeping views of the alpine forests that are well worth the climb to the peak.
The Palenica Bialczynska to Rysy Trail is an excellent option that takes you past the Morskie Oko Lake and up to the peak in around three hours. The Tatra Mountains are also one of the best winter destinations in Małopolska for snow sports enthusiasts.
It's home to Kasprowy Wierch, the highest ski resort in Poland, best suited to more advanced skiers or snowboarders. If you're visiting in summer, consider taking the cable car to the top, for the views and hiking trails.
There are also several beautiful lakes. Morskie Oko is the most well-known but the Dolina Pięciu Stawów Polskich lakes are just as beautiful and often less crowded. You can get a great view of them by taking the Kasprowy Cable Car.
Babia Góra National Park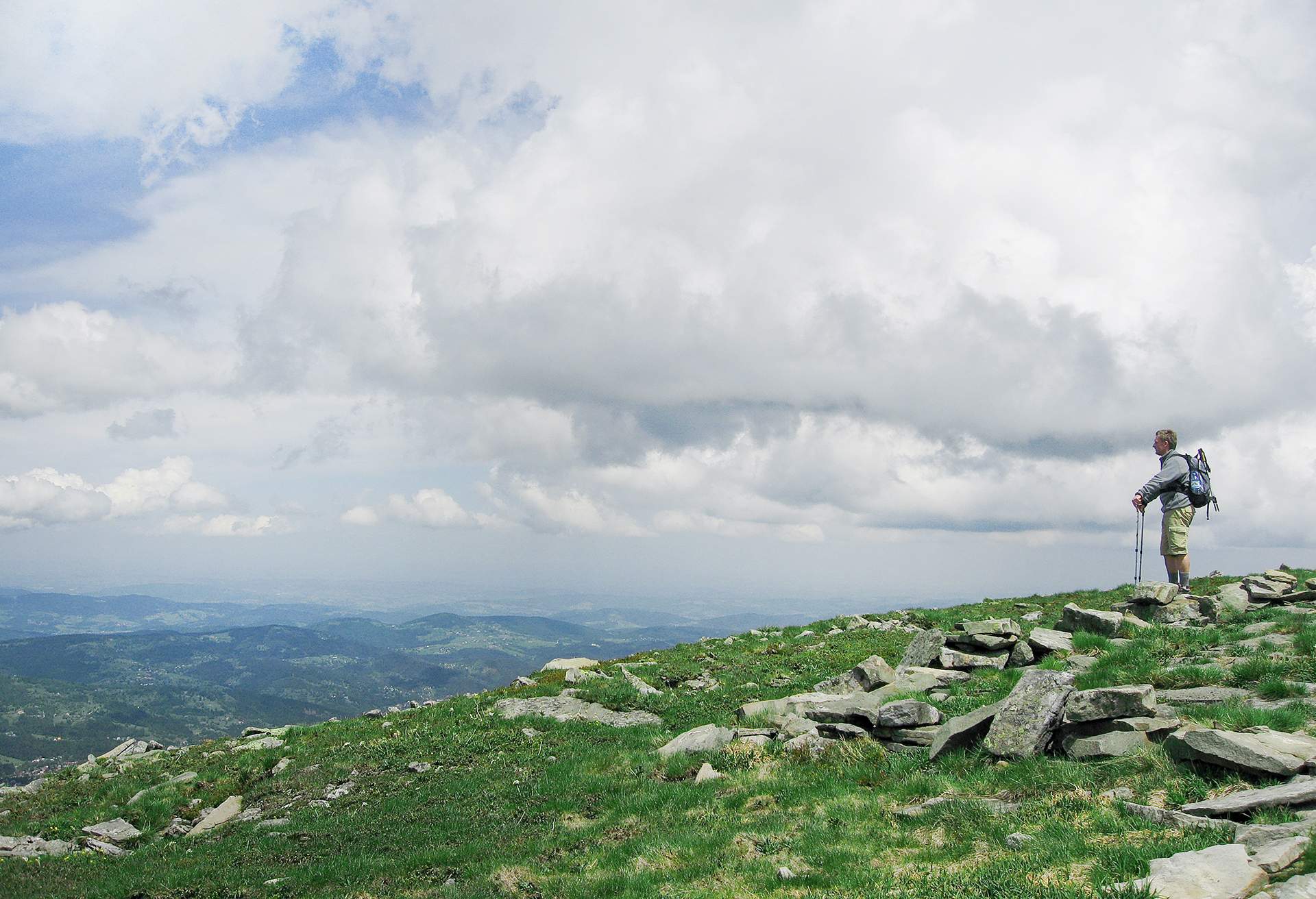 One of Poland's smallest national parks, Babia Góra is a stunning massif that offers incredible views of the Tatras to the south. There are several hiking trails throughout the park, and you can follow the Red, Yellow or Green trails up to the peak, Diablik.
Time your arrival for sunset or sunrise and you'll be rewarded with a picture-perfect moment. In winter some walking tracks may be closed, but you'll also have the option of exploring the park using the ski trails from Zawoja Village.
Pieniny National Park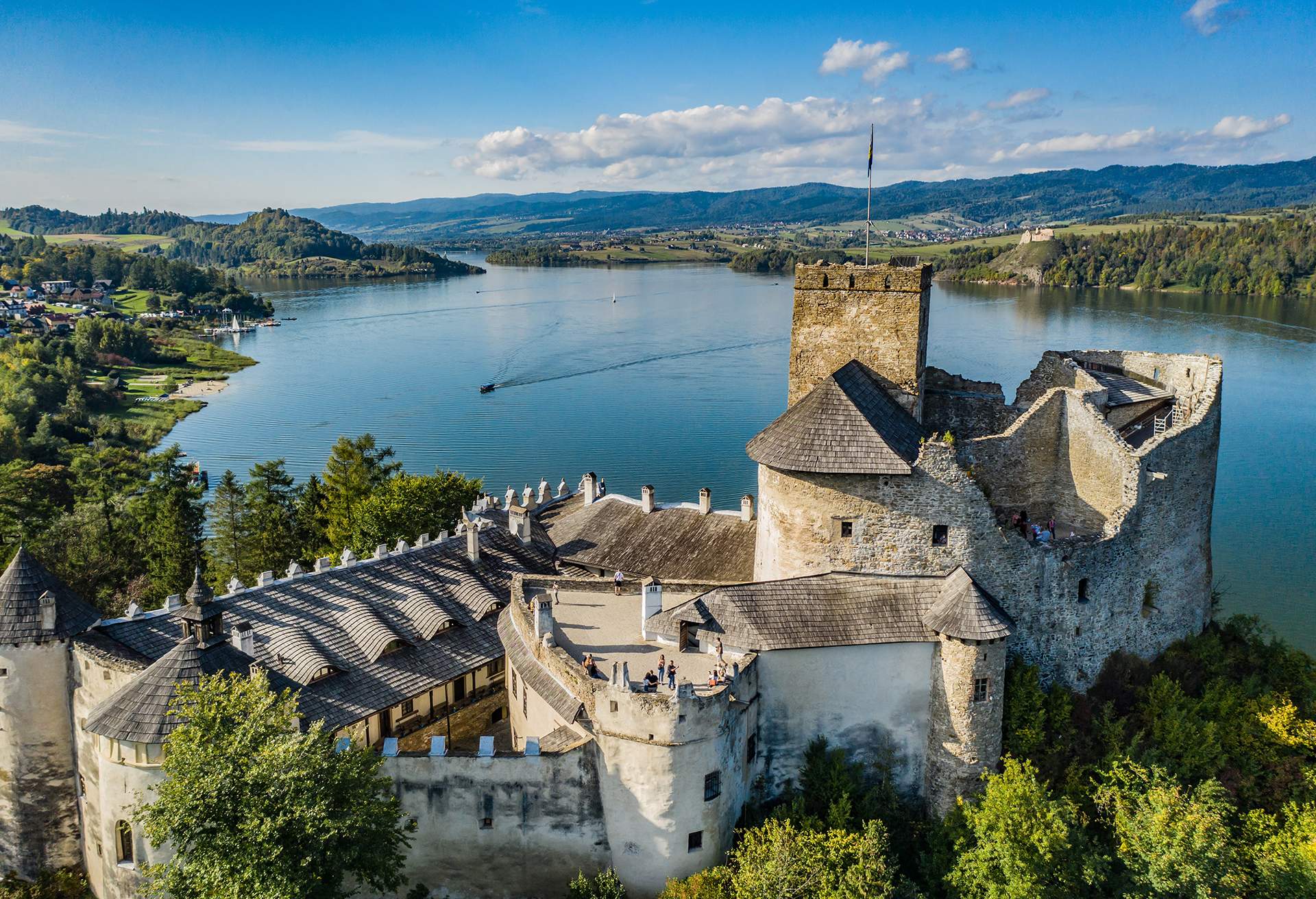 Pieniny National Park is home to one of Poland's most beautiful castles, the Czorsztyn Castle, placed majestically above the edge of Czorsztyn Lake. There are a number of trails of varying lengths and difficulties, but we love the Blue Trail, as it takes you through some of the best parts of the park.
From the Czorsztyn visitor centre to the top of the Three Crowns, through the mountains and down to the Dunajec river gorge. As you make your way along the trails, keep an eye (and your camera!) out for lynxes, butterflies and deer. When you get to the Dunajec River, you can spot otters swimming in the water which runs past stunning limestone cliffs.
Gorce National Park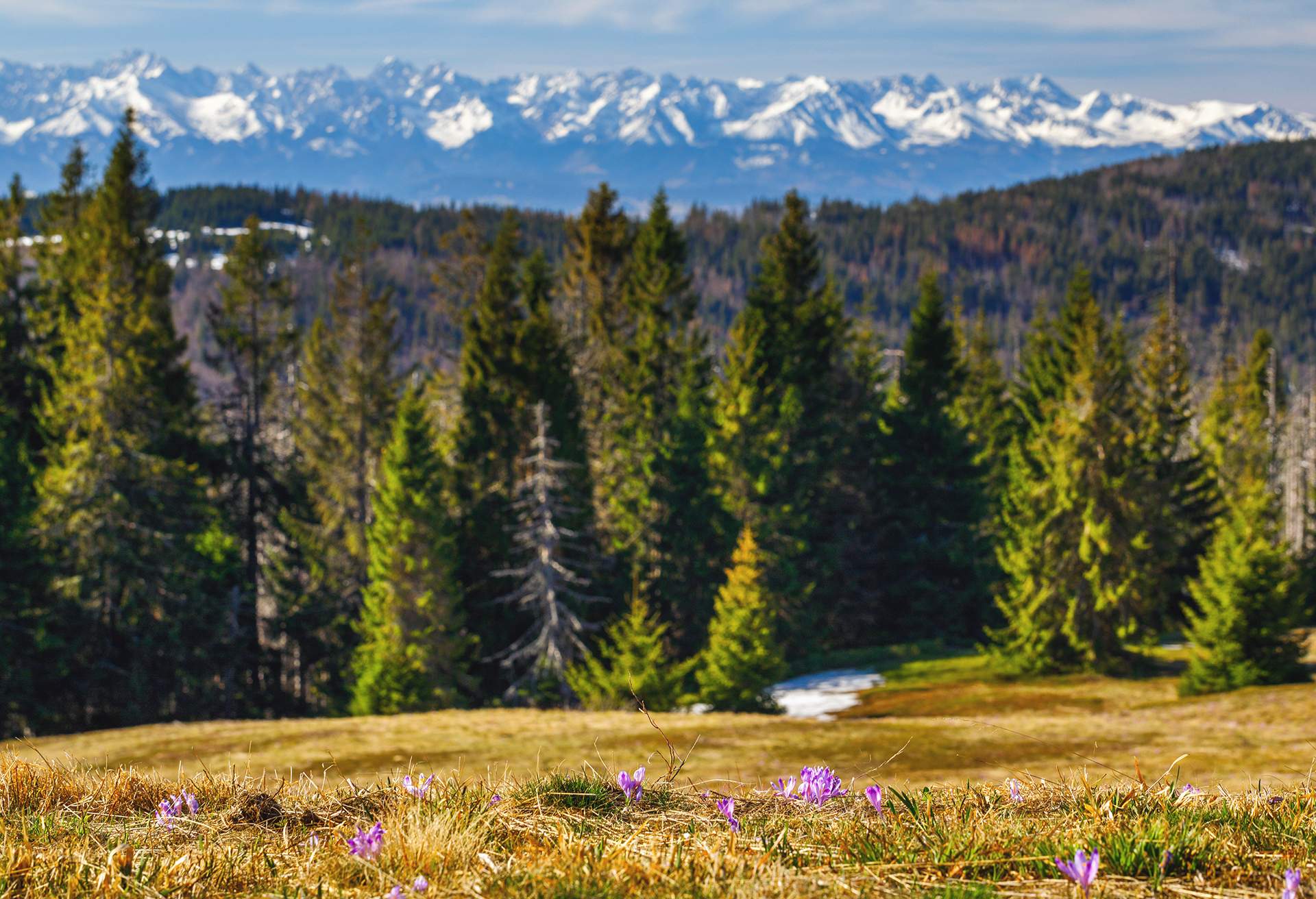 Hike up the Gorce Mountains for stunning views of the forests and foothills down below. Start in the lovely Koniki Village and take the trail up to Turbacz Peak.
Near the peak, you can stop for a break and a tasty meal at the mountain hut restaurant (we recommend getting a table outside to soak in the views).
Bird enthusiasts will want to keep their eyes peeled for capercaillie and eagle owls as they make their way through the lush spruce forest. Along with rocky mountain slopes, you can also explore flat pastures on foot, by bicycle or by horseback.
Ojców National Park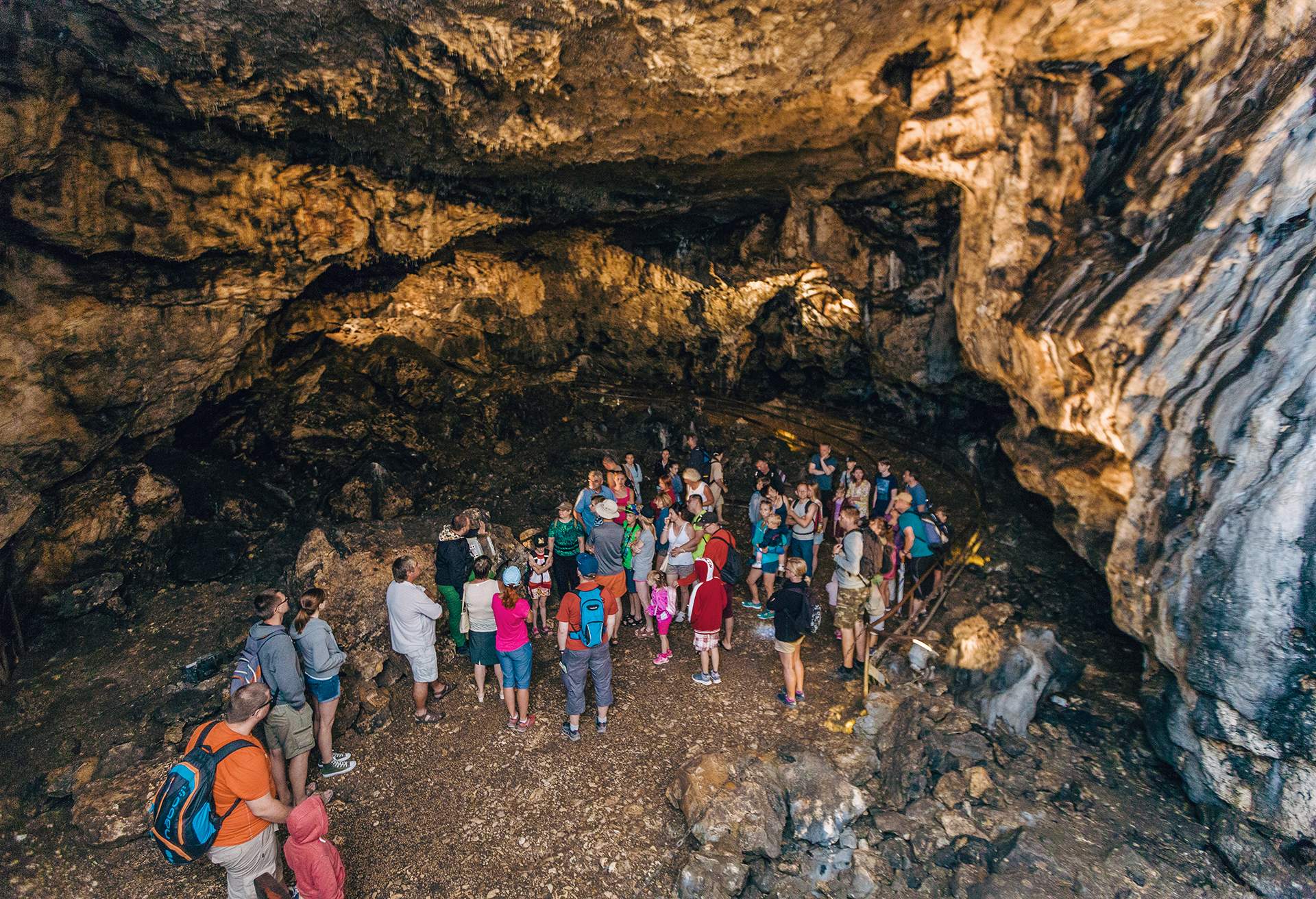 While Gorce's draw is its beautiful mountains, Ojców National Park takes you down into deep valleys and dramatic caves. These caves are home to the park's large bat population, and two are open to the public: the Dark Cave and King's Lokietek Cave.
You can visit the caves with a tour guide, and you'll need to purchase tickets beforehand. You'll also need to make a short hike to reach the Dark Cave. King's Lokietek Cave is a short walk from the nearby car park.
Rock climbing at Jura Krakowsko-Częstochowska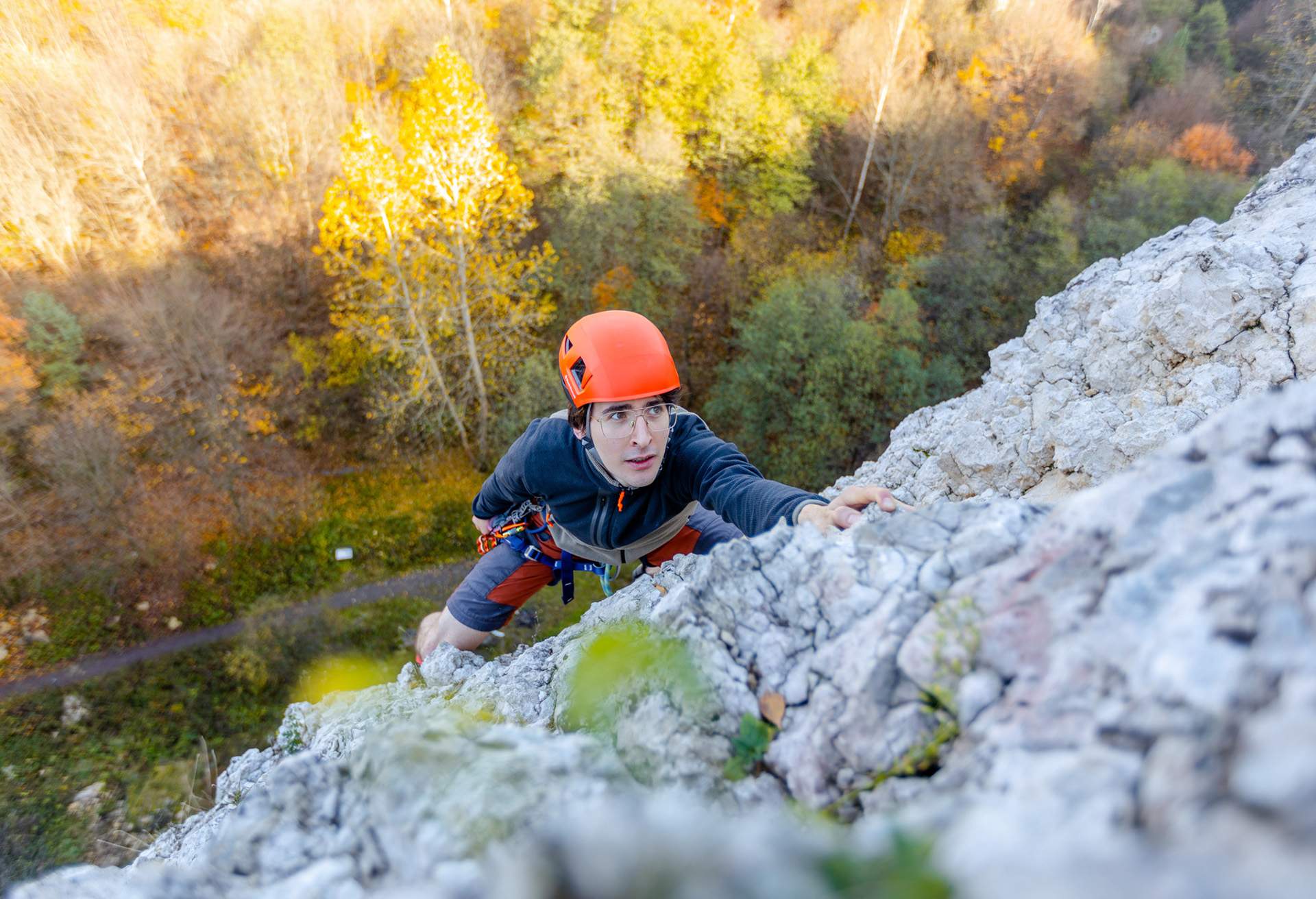 The limestone cliffs of Jura Krakowsko-Częstochowska make it the largest rock-climbing spot in Poland. Most routes are bolted, and you'll want to be prepared for slippery surfaces. Roughly 60 metres of rope and 15 quickdraws should be sufficient for most climbs.
Once you get to the top, you'll be rewarded with views of Poland's Jurassic Highland. You can find routes that are comfortable for beginners and routes that provide an interesting challenge for more advanced climbers.
If you're travelling with people who aren't interested in climbing, there are also several caves and castles in the region to explore. Situated between Kraków, Wieluń and Częstochowa, it makes a great day trip from one of Małopolska's major cities.
Things to do in winter in Małopolska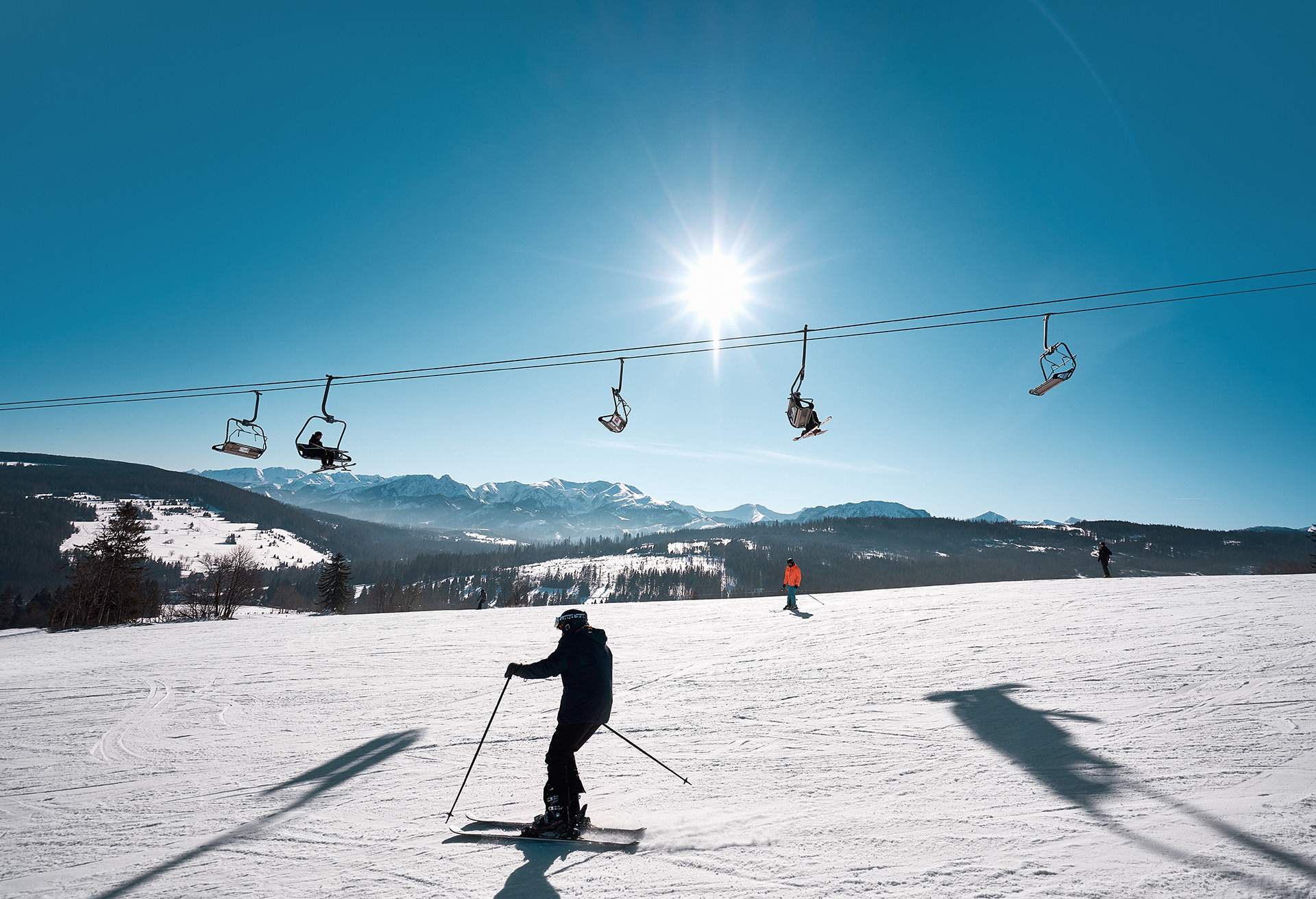 Małopolska is gorgeous in the winter months, and you can enjoy plenty of fun winter activities. Cross-country skiing is a particularly popular pastime. It's perfect for anyone heading to Zakopane, where you can find a number of trails and a biathlon shooting range.
The Górna Równia Krupowa trail runs through the centre of Zakopane and is lit up at night. If you visit Małopolska in December, you'll be able to enjoy busy Christmas markets and the Christmas Crib competitions in Kraków.
Relax at Małopolska's saunas and spas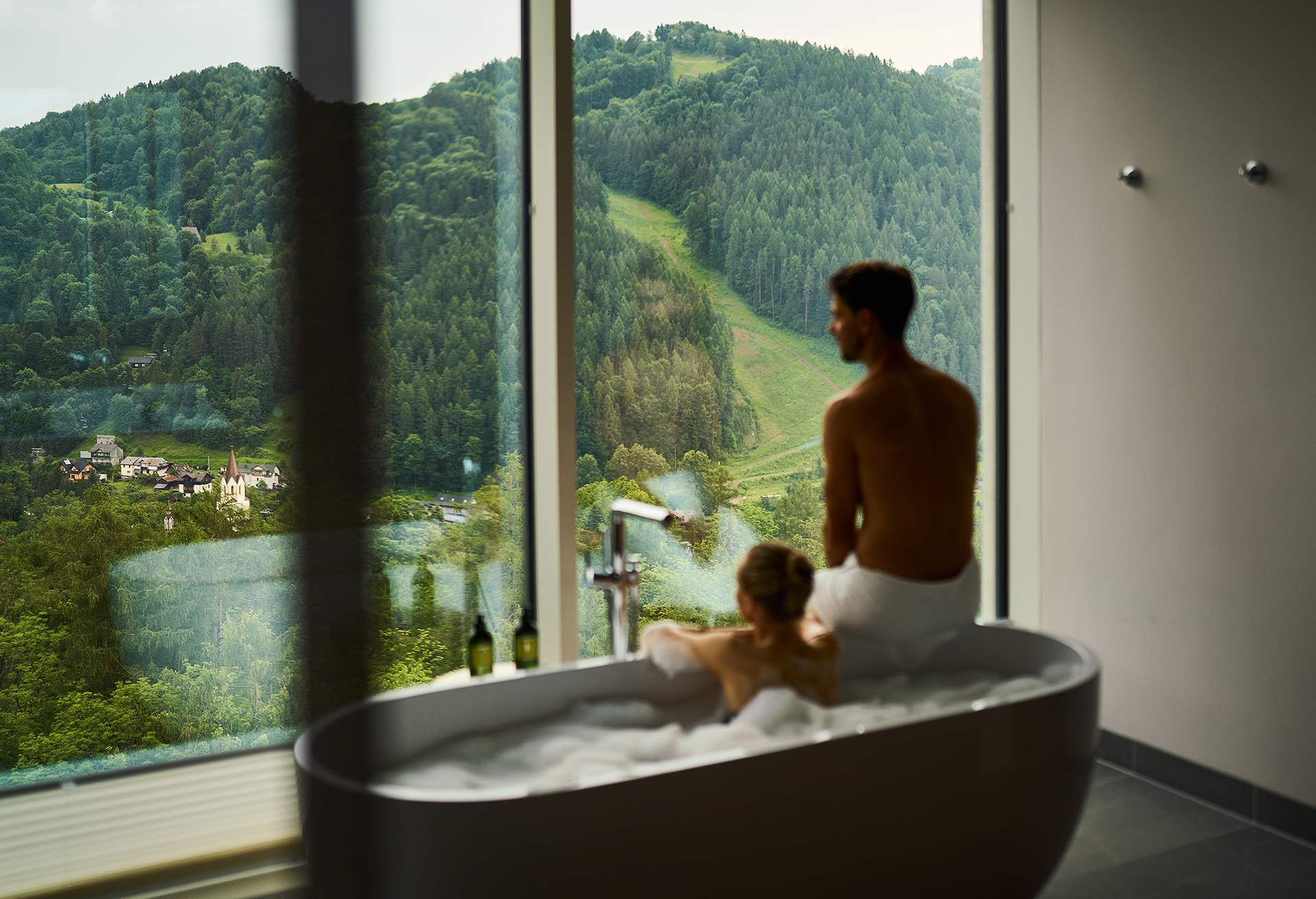 You've spent a long day skiing or hiking through the mountains and exploring the best of Małopolska's natural landscapes. But now, it's time to kick back and relax, and thermal spas in Małopolska are the perfect place to do it.
Many of the best ones are close to Zakopane which itself is home to the Termy-Zakopianskie. You can relax in the thermal pools packed with calcium, sodium, sulphur, magnesium and more. One of the best nearby options for families is Termy Szaflary.
There's a toddler pool and a Children's Cove, that's supervised by qualified assistants. Alternatively, Chochołowskie Termy is around 40 minutes from Zakopane. With almost 3000 square metres of water across 30 pool troughs, you can soak up the sulphide and brine water in the treatment zone or have fun amidst artificial waves, water jets and slides.
Spas near Nowy Sącz & Nowy Targ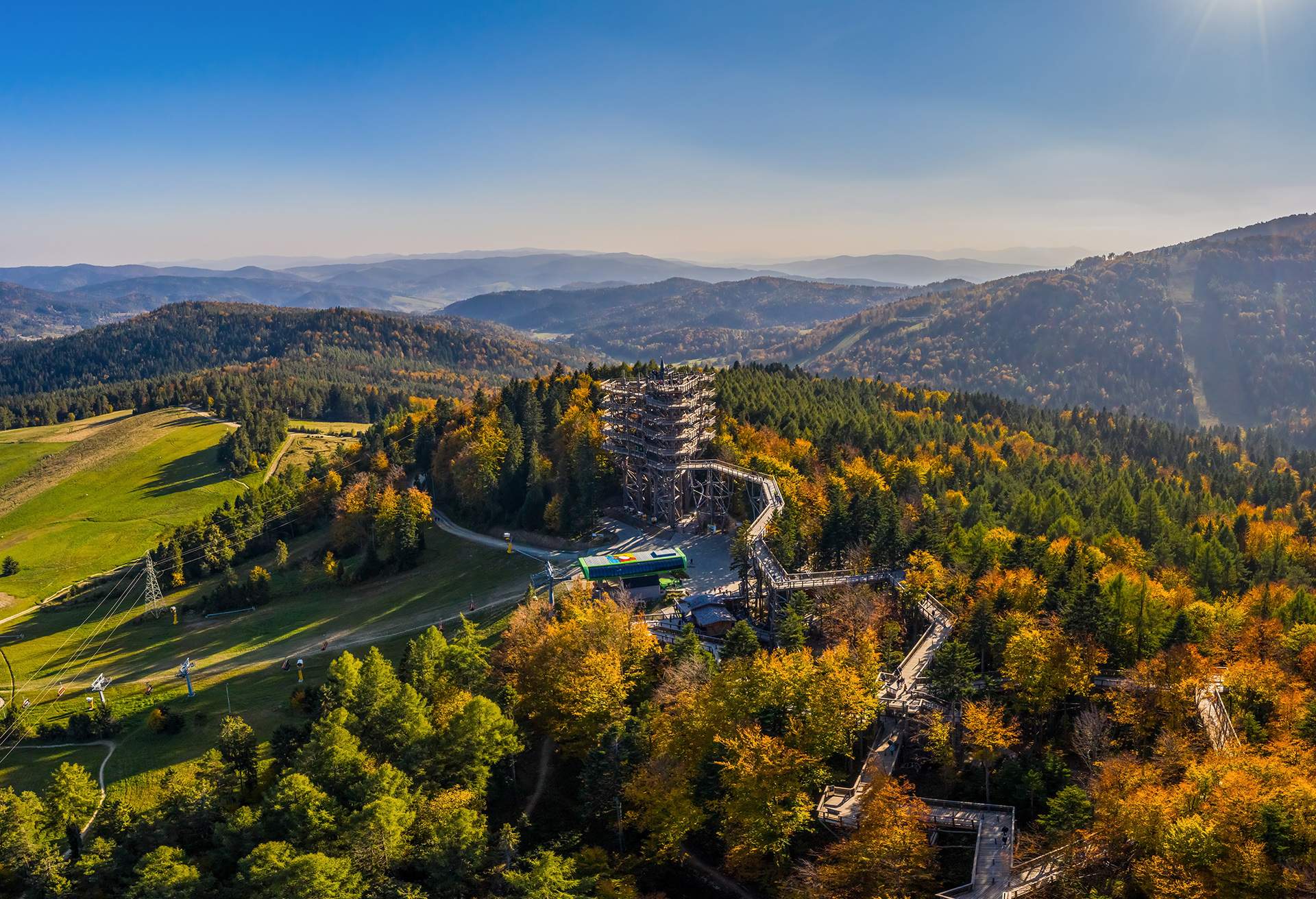 If you've been hiking or skiing in the Pieniny National Park, head to Szczawnica, which is famed for its alkali sorrel springs. Further west, Krynica-Zdrój in Nowy Sącz County is Poland's largest spa town. Nestled in the Beskids mountains, you can bathe in the warm, mineral water, or buy it by the bottle at the "Pearl of the Polish Spas".
While here, take the scenic walk or a cable car to the Tree-Top Observation Tower at the top of the Słotwiny Arena ski station. It's similar to the famous Sky Walk, or "path in the clouds" in Krynica Zdrój.
Termy Bukovina and Terma Bania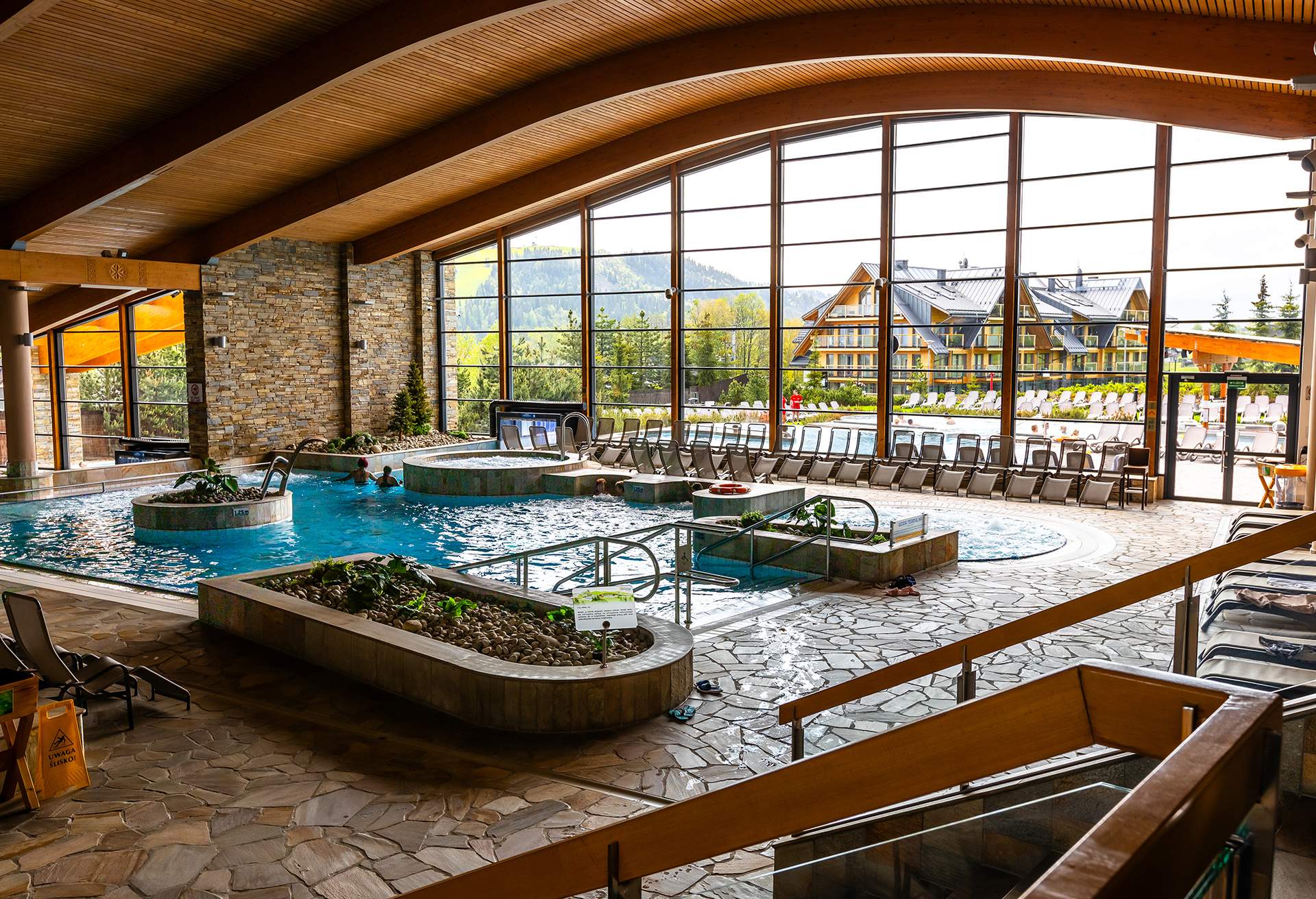 For that picture-perfect holiday memory, opt for a sauna with a sweeping mountain view. Termy Bukovina has thermal pools that reach up to 38°C. You can kick back in the steam rooms or hot tub or have fun on the water slides. On some evenings, their pool night events turn the thermal pools into an outdoor club. Another option is Terma Bania, in Białka, just 10 minutes from Bukovina by car, which offers both family fun and adult-only areas. They have several saunas, including the glowing Salt Rock Cave.
Małopolska and beyond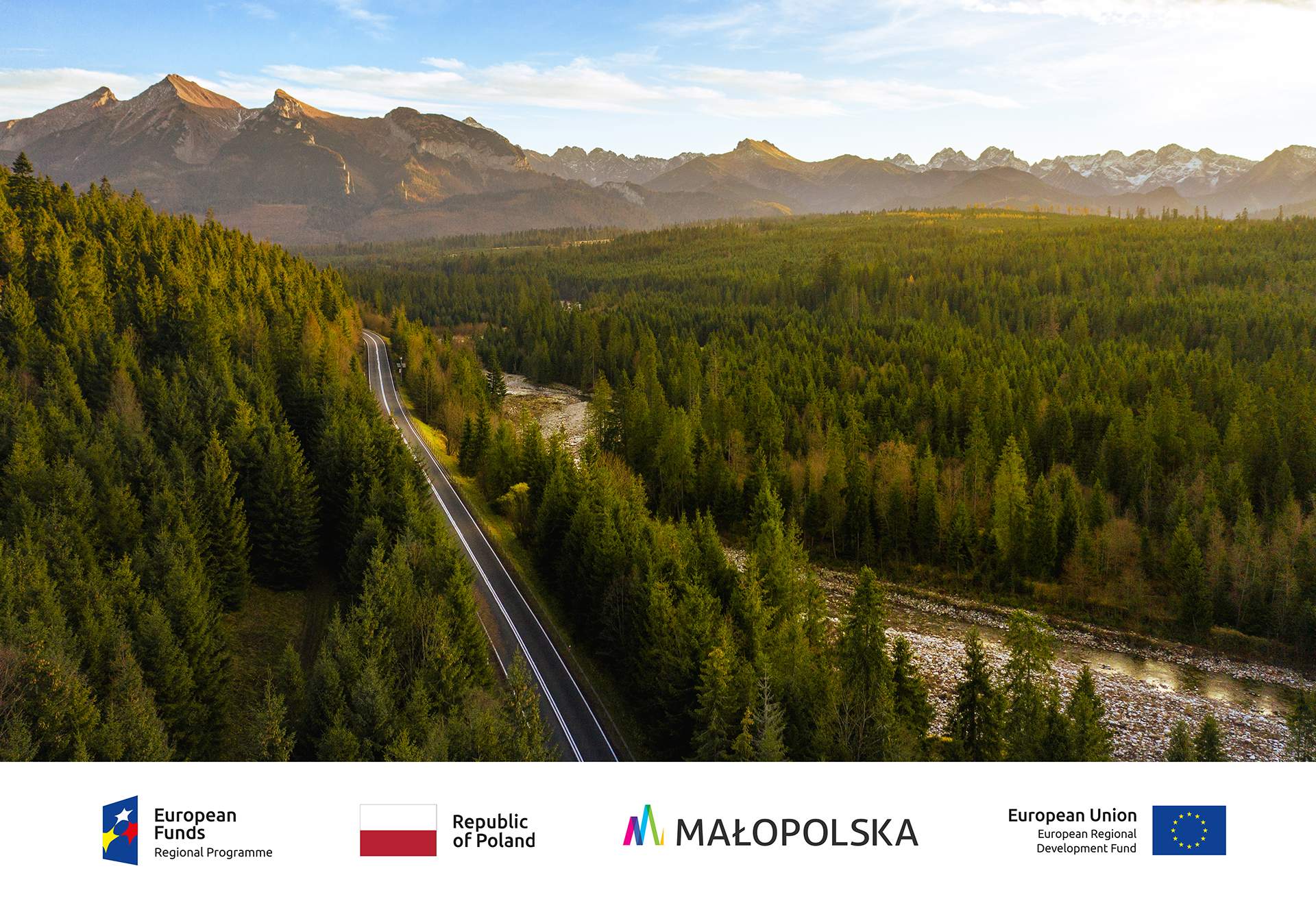 If we've convinced you to plan your next trip to Małopolska, you don't need to stop there — Cheapflights sister brand KAYAK has lots more inspiration.
Poland has so much to offer, with charming cities, fascinating castles, sunny beaches and unforgettable restaurants. In winter, Poland is an underrated skiing getaway.
If you want to know more about the best cities in Małopolska, we've got the lowdown on where to stay, eat and explore.
Images contained within this article are copyright of the Archives of Marshal's Office of the Małopolska Region.